As many of you know, yesterday was Greg and my 18th anniversary.    I love being married to this man.   I just can't even go into everything that I cherish or adore about him and what he brings out in me.  Sometimes I feel like when we're on our own we're fish out of water.  But when we are together, everything seems to make sense.  Not that things are easy, just *easier* when we do it together.
Yesterday Greg surprised me with breakfast in bed.  Well, I was in the shower so when I was dressed and finally ate, it was delicious.  Then he surprised me by taking me to north Seattle to a little hole-in-the-wall cake decorating store.  I've been looking for some flavors and other items that I haven't been able to find and don't really want to pay as much shipping as some websites are asking for.  I was like a kid in a candy store.  Well, a tiny candy store.  It didn't have as much as I would have liked, but I can't wait to use what I got!!!!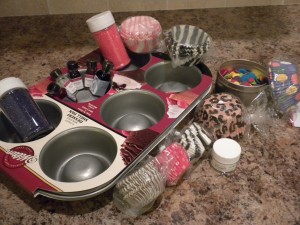 And, as I was looking at my booty (comments kept to yourselves please) I couldn't help but remember that I had 3 cupcake boxes at home ready to be filled with 4 different flavors and then shipped off to some of my favorite people.  Hmm, I wonder who they will be? 
Thanks for the trip to the cupcake store Greg!  And the fabulous walk around the waterfront, the antique store, the most decadent dessert, the ski ball games, and the relaxing time in the sun at Alki.  So many memories over the last 18+ years.  I don't think I would change anything.  Nope, I'd do it all over again.