Have you seen October Sky?  http://www.imdb.com/title/tt0132477/plotsummary  Awesome movie.
I married a rocketeer.   Greg has a passion for making these rockets, from scratch, from body to motor, and sending them up in the sky to see just how far they will go and how well they will return back to earth.    Its an art, and a science.  Greg is good at what he does.  Pretty frickin' darn good.  You know how some people bronze their kids' baby shoes?  I always joke that we bronze our kids' first rockets.  We don't, but it would have been awesome had we thought of it!  One year we even had a small rocket adorn the top of our Christmas tree.  I wish I could find the picture.
Sometimes things have to take a backseat when you get married and have a family.  For Greg that has been attending rocket launches with all of his friends.  We go as a family to the ones locally, but the ones that are the best are ones that are in Black Rock, NV.    The big event takes place the last weekend in September and is called, appropriately, BALLS.  (http://www.rimworld.com/balls/ )  There are some HUGE things going on there, or so I hear, this is the one event that discourages families.  Only because of the fact that it is an experimental launch.  Otherwise rocket launches are a blast for the entire family to go to.  (notice the pun?  badum bum)
HOWEVER, this year Greg got to go to BALLS!!!!  Seven long years have past, but he and a friend hopped a plane on Friday, drove out to the playground, played for 2 days, and are headed home today.  I can't wait for Playa-Boy to get here!  I can't wait to see the pictures.  I can't wait to hear the stories.  It's all very exciting.
(these next few pictures are from a family launch in Mansfield, WA that *all* of us, even Greg's parents, went to this past summer.  The red and yellow rocket is Greg's named Hold-The-Mayo.  The black one is Cameron's that he built himself.  Oh, and yes, I have made one from scratch too.  Then I took out my rubber stamps and stamped it up in flowers.  It's name is Flower Power.  I'm a rocket girl.)
Oh, did I mention that Greg and I teach rocketry to the 4th grade classes of our kids' school?  We've done it for the past 4 years and love it.   It's a part of their energy chapter in science.  Pretty cool.  Instead of a lame fieldtrip the kids team up in pairs and build a rocket, eat a lot of pizza, then fly the rockets that they build.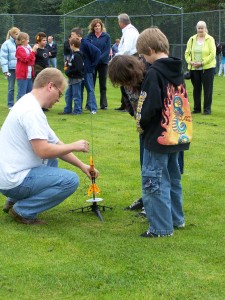 Go fly a rocket.