So I'm not very good at blogging every day.  That doesn't mean that I haven't been keeping up with my Attitude of Gratitude.  Here's a look-see into one thing I found myself grateful for this week.
Color.  I love color.  The aisles at the big stores like Fred Meyer and Target that have all that color on them, yeah, I could get very distracted there.   My kids ask me a lot what my favorite color is, usually I say orange.  It does make me happy.  There aren't a whole lot of things that are orange so when you see it the color just *POPS* out at you saying, "Here I am, BE HAPPY!!!".  And I AM!!!  There are some days that yellow is my favorite too.  And green.  And steel blue.  So guess how giddy I was when I saw this a few months ago*: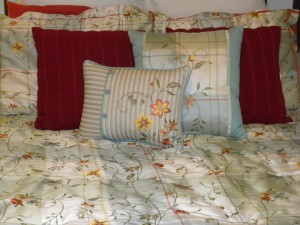 All of my favorite colors, on my favorite piece of furniture.  My bed.  Gid-dy I tell you.  I love going there, sometimes I visit during the day too.  But that's another post.  (grateful for nap time, even when all the kids are at school.  Wait, especially when ALL the kids are at school!)
I love paint chip samples and looking at a big box of 96 Crayola Crayons.  I used to see a therapist who would get out that box of crayons at the beginning of our sessions and have me pull out the color I felt like that day.  She said she could tell a lot right off the bat by the crayon I chose.  My favorite color is Daffodil Yellow.  I would be in heaven having the 'color naming' job for a paint company or a crayon company.  *laaaaaa . . . .*
Living in the Pacific Northwet Northwest this time of year you don't see much color.  Shades of gray mostly, so this past week I have been ridiculously grateful for COLOR!!!!
*is it lame that I went upstairs and made my bed just to take a picture for the blog?  Nah, I didn't think so.
PS.  For Atalie's 7th birthday party she had an "Orange You Glad I'm Having A Party?" party.  EVERYTHING was orange.  It was one of the most fun parties we've had.  Color themed parties are awesome, especially when you can get the guests to wear the color.  Pictures turn out so fun!